If your traditional dentures hurt or you're missing a full arch of teeth, oral health, and oral function could be at risk.
Drs. Alan and Jason Hecht can improve your smile, oral health, and quality of life with a customized, high-quality Prettau® Zirconia bridge.
How can this zirconia bridge from Staten Island Aesthetic & Implant Dentist in Staten Island, NY, improve your ability to smile and chew?
A Stunning Prettau Zirconia Bridge Transformation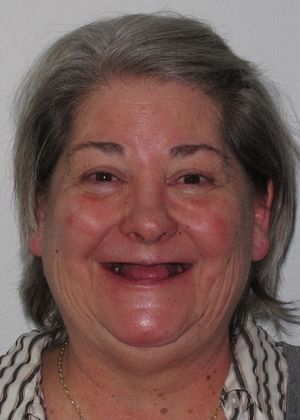 Why Prettau Zirconia Bridges Are So Amazing
Proven Results
This incredibly durable bridge is milled from zirconium, a natural element that's been used to create top-quality dental restorations for over a decade.
Non-Allergenic
Zirconia is 100% biocompatible with the human body, so you don't have to worry about toxicity, allergies, or rejection.
High Strength
A bridge crafted from Prettau® Zirconia is much stronger than an acrylic bridge, which can fracture under bite pressure. A zirconia bridge will not chip or break.
Non-Porous
Fluids, stains, odor, or bacteria do not permeate zirconia restorations, so they retain the luster of healthy tooth enamel.
Amazingly Lifelike
Zirconia mimics the light-reflecting properties of natural teeth, just like porcelain, and can be customized to match the color and shade of natural teeth.
Preserves Tooth Enamel
Zirconia is smooth, so it will not wear down the enamel on teeth next to the bridge.
Increased Stability
Prettau Zirconia has more elasticity than other ceramics and porcelain, so it offers increased stability when attached to implants.
Long-Lasting
With proper care, your zirconia bridge can last a lifetime.
Missing Teeth? Inferior Dentures?
Consider a Superior Prettau Zirconia Bridge
Your Prettau Zirconia bridge will look, feel, and function just like natural teeth. When attached to surgically-placed implants, your bridge can offer unsurpassed, permanent restoration stability — no more taking out dentures for cleaning and reinserting them with messy adhesives.
Contact our friendly, state-of-the-art Staten Island, NY, dental office to learn more. We've been providing compassionate, top-level care to our New York patients for over 40 years.
High Praise for Prettau Zirconia Bridges
5 Reasons to Choose Us for a Prettau Zirconia Bridge
Implant Specialists
Our dentists are certified in performing implant surgery, so you don't need to see an outside surgeon.
Advanced Technology
Our practice uses the latest 3-D digital scanning technology, so your bridge design and implant placement are done efficiently and precisely.
Sedation Dentistry
Nervous about pain, surgery, or dentists in general? Safe, gentle sedation can help you relax and remain pain free during your procedures.
Trusted Lab
Our first-rate partner lab will craft your computer-designed bridge out of solid zirconia. The highest standards will be met for the best custom-fit possible.
Affordable Payment Options
We offer third-party financing, customized payment plans, and senior discounts so you can get the superior dental health care you need and deserve.
Missing teeth can affect your smile, make chewing and speaking difficult, and give your face a sunken, aged look. Missing teeth can also make your jawbone weaken and shrink, causing serious oral health issues.
Dental implants paired with a customized Prettau Zirconia bridge can reverse these issues, restoring your appearance, oral function, and dental health. And a full, beautiful smile can really boost your self-esteem.
Implant placement usually involves two oral surgeries along with healing periods spread over several months. However, the smile you'll have when you receive your Prettau Zirconia bridge will make the wait worthwhile.
Great Reviews Written With a Smile
I had several broken, missing and discolored teeth and Googled implant dentists on Staten Island. Dr. Alex Hecht came up and had excellent reviews so I decided to call. I was intivied in to have a face to face consoltation. I was met by nothing less then a sincere, caring, professional staff and doctors. We discussed what would be right for me. I had my entire uppers replaced. While that does take a bit of time, you always have a more than very decent temporary bridge so you never are without teeth. Thank you Dr Jason and Alex Hecht as well as everyone that I have had the pleasure of knowing and working with during these last few months. I am thankful and grateful.
View on Google
I have now used Drs. Alex and Jason Hecht, Dr. Brandon Katz, Dr. Michael Klausner, and gifted hygienist Lorene for about four years now. I have been given excellent service and diagnoses from all, and now have a nice smile and am able to eat and chew what I want without fear of losing a cap or a bridge. The team has put in several implants now, all with great success. I get regular cleanings from Lorene, who makes sure I retain my teeth as long as possible (I am nearing 70 years old). The office managers, Judy and Dawn, are very careful to submit my insurance and bill me amounts within reason. I can't say enough for this fine firm.
View on Google