Traditional bridges and dentures are trusted solutions for treating missing teeth. But these options leave you vulnerable to bone resorption, which can threaten your oral health.
Dental implants are small titanium posts placed in the jaw that can protect your health and last for a lifetime.
Why should I choose dental implants at Staten Island Aesthetic & Implant Dentist to restore my smile?
How does an implant replace a single tooth?
Is tooth loss really that common?
A Huge Number of Americans Are Affected
Dental implants offer a solution to a range of issues...
Understanding Your Options for Severe Oral Health Issues
Your restorative dentist will always make an attempt to save severely damaged or decayed teeth before recommending an extraction. However, there are some situations in which removing and replacing compromised teeth is the only option for restoring the health of your smile.
In these cases, Dr. Alex and Jason Hecht can place an implant to support the replacement teeth you need to restore proper oral function. For some patients, receiving an implant-supported restoration can also provide relief from the symptoms of gum disease.
Not sure you qualify for dental implants?
You may not be able to afford to wait for treatment...
The Cost of Untreated Tooth Loss
You may be tempted to delay your restorative care, especially if you are missing molars, which are less visible than front teeth. However, delaying treatment can have serious consequences for your long-term health and eventually require even more expensive treatments.
When you have gaps in your dental arches, your teeth can shift out of place. Accordingly, you could eventually develop severely crooked teeth or an imbalanced bite. Missing tooth roots will also cause the jawbone to shrink. As the bone recedes, you could lose additional teeth. Your overall facial structure could also change. Replacing your roots with dental implants, however, will stimulate tissue growth and protect your natural jaw contours.
Dental Implants Are the Best Method to Replace Missing Teeth
More Information on Dental Implants
The support and strength that dental implants provide simply cannot be matched by other dental restorations. If you are looking for a way to regain your confidence, restore your oral health, and return beauty your smile, then dental implants may be the optimal treatment for you! Dr. Alex Hecht has been placing and restoring dental implants for over 30 years and that is why he is regarded across the country as an authority in fields of implant and restorative dentistry. With his years of experience, dedication to detail, and eye for artistry, Dr. Hecht can help you achieve the youthful, beautiful, healthy smile of your dreams. We can walk you through the entire treatment timeline during a visit to our office.
Video: About Dental Implants
About Dental Implants
Dental implants are designed to replace missing or extensively damaged teeth. At Staten Island Aesthetic & Implant Dentist, we always take the most conservative approach possible when providing treatment for the teeth, jawbone, and gums; if your damaged teeth can be salvaged, then we will explore alternatives to dental implants.
Dental implants are titanium posts that act as artificial roots for prosthetic teeth. The titanium screws are surgically implanted into your jaw, where they will fuse with the bone in a process called osseointegration. Because the comfort of our patients is one of our highest priorities, we offer sedation dentistry to ensure that the implantation process is free from pain and anxiety.
What Sets Us Apart
While most dentists in the area refer patients to oral surgeons for the surgical stage of the dental implant procedure, our dentists are certified in both the surgical and restoration phases of implant dentistry. Our dental team believes that every patient's time and schedule are important, which is why all of our treatments are conveniently performed in-office.
Our office also features state-of-the-art diagnostic systems, including a CT scan machine that allows us to capture detailed images of your smile and helps us to determine whether you are a suitable candidate for dental implants. Staten Island Aesthetic & Implant Dentist is one of the very few dental practices to own and use this invaluable diagnostic tool.
Drs. Alex and Jason Hecht also place an emphasis on patient education, doing whatever they can to guide patients toward a healthy, hygienic lifestyle that will allow them to maintain their beautiful new smiles for a lifetime.
What Implant Patients Are Saying
"I am beyond impressed and so pleased with the double implant I received from Dr. Jason Hecht. From beginning to end, I felt so comfortable with the care I received...I would absolutely highly recommend them if you are considering implant dentistry. Their expertise is truly unsurpassed. Worth every single penny!"

Patient Keri G.
What to Expect throughout Treatment
Your Consultation
Before recommending implants, you will have a complete consultation. During this appointment, we will explain the various restorative treatments available, as well as the different types of dental implants. This visit gives you the chance to meet our friendly team and to ask as many questions as you like. If you are interested in implants, we will proceed with evaluating your health and needs.
Implant Candidacy
Your dentist will carefully evaluate your candidacy for dental implants. Smoking is one of the most significant considerations, because nicotine interferes with your body's ability to transmit oxygen, which is essential to the healing process. Therefore, if you are a smoker, will need to drop the habit for a period before surgery and while you heal. Ideally, you will continue to abstain.
Additionally, other health conditions, such as an autoimmune disease or diabetes, can interfere with healing. Though these problems will not necessarily make you ineligible, you should discuss them with your doctor at your initial consultation.
Planning Your Treatment
If we decide that implants are right for you, we will schedule an additional evaluation. During this appointment, Dr. Alex or Dr. Jason Hecht will create a detailed and one-of-a-kind surgical plan. Our office is equipped with a CT scanner, which can capture three-dimensional images of your jaw to reveal the strongest and weakest areas of your jawbone. If you have lost bone tissue, your doctor may recommend a bone graft or sinus lift. After these procedures, you may need to wait four to six months before proceeding with implant surgery. The CT scans will also help your dentist determine the right places for dental implants. Sometimes, with careful placement, he can eliminate the need for a bone graft.
Your Implant Surgery
Because of our incredibly precise treatment planning, our dental implant surgery is very efficient. Of course, the duration of your surgery will vary based on the number of implants you receive. We will first numb your gums, and we will typically provide additional sedation to provide maximum comfort. Your surgeon will create pilot holes in your jaw, accessing the bone through small incisions in your gums. He will set between one and six implants, depending on the size of your restoration. A crown requires just one implant, while a full denture may require up to six posts.
Because of our incredibly precise treatment planning, our dental implant surgery is very efficient.
Healing and Osseointegration
Recovery from implant surgery usually takes between four and six months, depending on your body's response to treatment and its ability to heal. During this period, osseointegration will occur. Osseointegration is an essential component of dental implant success and an important consideration in the overall treatment timeline. This process allows your implants to perform the same functions as your natural tooth roots. As your jawbone produces more collagen and cartilage, the tissue will fuse around the implants. The posts will become part of your anatomy, providing a stable base for your restoration. Our team will supply medications, dietary guidelines, and other suggestions to speed recovery and reduce discomfort.
The Discovery of Osseointegration
Osseointegration is considered one of the most important discoveries in dentistry. In 1952, Per-Ingvar Brånemark, a Swedish doctor, inserted a titanium rod into a rabbit's femur to study blood flow. When he tried to retrieve the post, he discovered it was firmly fixed to the bone. Through subsequent study, he realized that bone tissue produces new collagen and cartilage in the presence of biocompatible titanium. As these tissues develop, the bone seals around the metal, making it a permanent part of the body. Dr. Brånemark quickly realized the importance of his discovery and its applications in dentistry: he had found a way to replicate the root of a tooth and therefore make tooth replacements permanent and stable. He successfully placed the first dental implant in the 1960s; since then, more recent developments have made dental implants the ultimate solution for missing teeth.
Osseointegration is considered one of the most important discoveries in dentistry.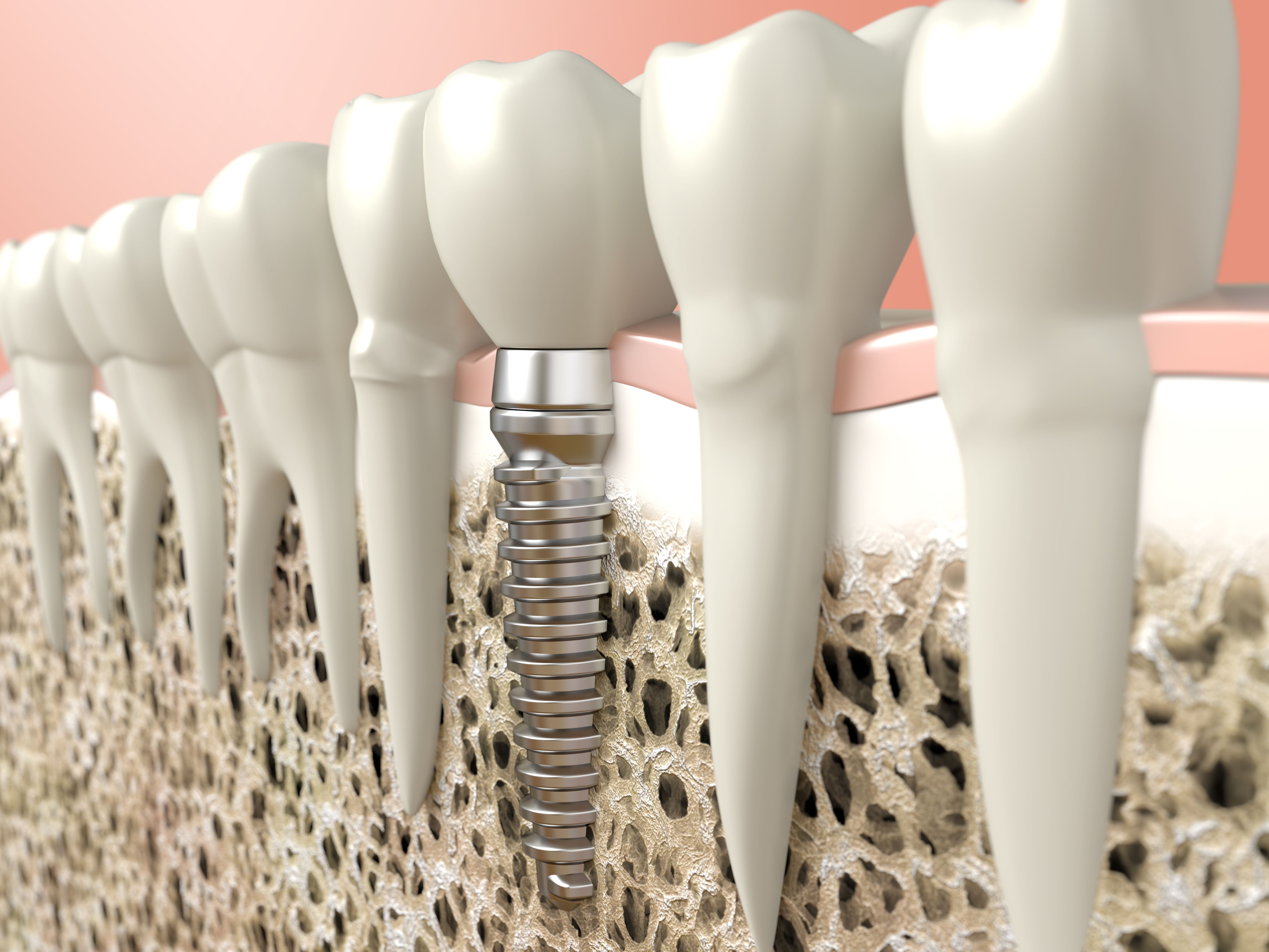 Restoring Your Dental Implants

In most cases, we will attach your dental restoration once your jaw has fully healed. This prosthetic will be custom-crafted from advanced materials.It will have a natural sparkle and color, and will fit comfortably. While you are waiting to receive your prosthetic, we can provide a temporary restoration. It will not be as stable as your final crown, bridge, or denture, but can provide more complete dental function in the interim. In some cases, we can provide an implant-supported denture more quickly. For example, if you receive Teeth Tomorrow®, we will attach a zirconia restoration the next day. With All-on-4® dental implants, we can provide an implant-supported denture the same day as your surgery.
Understanding Treatment Cost

Your dental implant cost will depend on several different factors. These include the number of implants you require, as well as any necessary preparatory treatments. Initially, dental implants carry a higher price tag than other restorative treatments, but they offer important benefits for your overall health and can prevent other problems. Most dental implant patients find that the investment and in many cases, lengthy treatment timeline, is more than justified by the often life-changing benefits.
When planning your implant surgery, your dentist will consider your health needs and personal preferences. Based on your specific surgical plan, he can provide an estimate for your care. The total cost will depend on:
Preparatory procedures: Depending on how long you have been missing teeth, you may require a bone graft or sinus lift before you can receive dental implants. These surgeries will replace lost jawbone tissue, providing a more secure base for your dental implants and ensuring long-lasting results. These other surgeries will increase the overall cost of treatment.
Number of implants: The more teeth you are missing, the more implant posts you will require. Dental implants are priced separately, so this will affect the cost of your care.
Type of restoration: Larger restorations, such as a bridge or denture, will cost more than a single crown. If you choose a more advanced option, such as the Prettau Bridge® or Teeth Tomorrow®, your treatment may cost more.
Sedation method: Before implant surgery, we can provide local anesthesia or a deeper form of sedation. The different sedation methods have varying costs.
Your choice of surgeon: A surgeon's experience is almost always proportionate to the price he or she charges. While an experienced surgeon may charge more, he or she is also more likely to provide excellent results than a less experienced surgeon.
Dental Implants Are an Investment in Your Future
When you are determining whether dental implants are worth the investment, it is important to remember their many advantages. Not only do implant-supported restorations serve a practical purpose by replacing your missing teeth, they also have cosmetic benefits. Your restoration will attach to implant posts and sit directly against your gums. It will also not slip out of place, remaining firmly anchored to your jaw. This stability can also benefit your confidence.
A surgeon's experience is almost always proportionate to the price he or she charges. While an experienced surgeon may charge more, he or she is also more likely to provide excellent results than a less experienced surgeon.