Teeth Tomorrow: A Dental Restoration Plan Using Dental Implants and Premium Materials
At Staten Island Aesthetic & Implant Dentist, we proudly offer Teeth Tomorrow®. This treatment plan is the ultimate solution if you want to replace your missing teeth with stain- and chip-resistant dentures made from Prettau® Zirconia, which provides superior durability and a completely natural appearance. The day after we place your dental implants, Dr. Alex Hecht or Dr. Jason Hecht in Staten Island, NY, will attach your Prettau® Bridge, instantly restoring full dental function, comfort, appearance, and confidence.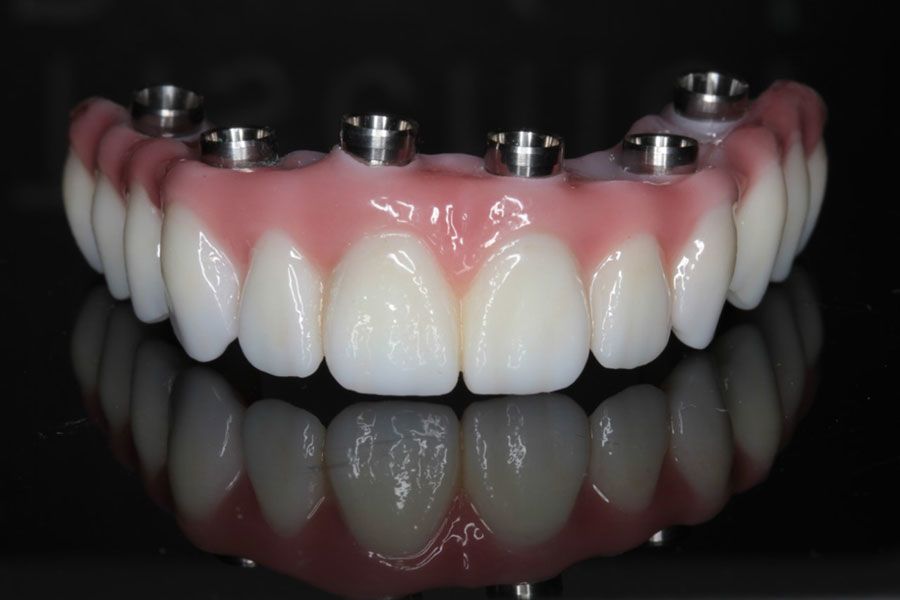 Are You a Candidate for Teeth Tomorrow?
If you are missing all or most of your teeth, and you want the most lifelike replacement possible, you may be a candidate for Teeth Tomorrow. You must meet certain qualifications to receive any type of dental implants. Certain health conditions, such as gum disease or an autoimmune disorder, can affect how the implant posts fuse with your jawbone. During a consultation, your dentist can determine if you are a candidate for implants, or if a preliminary treatment can restore your candidacy.
Made from state-of-the-art Prettau Zirconia, your restoration will be incredibly resistant to stains and chips. It will also provide a remarkably natural-looking color and sparkle.
Jawbone strength is another major consideration. If you have compromised jawbone tissue because of tooth loss, you may not be able to support implants. However, a bone graft or sinus lift can restore lost bone and your treatment candidacy. With x-rays and digital scans of your jaw, your dentist can evaluate your bone health and determine your need for additional treatments.
Treatment Process
Before your implant surgery, your dentist will design your bridge to achieve a precise fit with your jaw. The Prettau® lab will begin crafting your bridge to coincide with the placement of your implants.
On the day of implant surgery, your dentist will numb your gums and jawbone. If needed, additional sedation can keep you comfortable. Your dentist will make incisions in your gums to access your jawbone. He will create several small pilot holes where he will place the dental implants. Typically, he will position five to six posts, depending on your needs and whether he is replacing your top or bottom teeth. He will use small sutures to close the incisions once the implants are in place.
The day after your surgery, you will come back to receive your bridge. Though you will experience restored function right away, your jawbone will continue to heal over the next four to six months. This process, known as osseointegration, will allow the implants to become permanently fused to the jaw. Meanwhile, the implants will prevent jawbone recession.
Benefits
Made from state-of-the-art Prettau® Zirconia, your restoration will be incredibly resistant to stains and chips. In fact, zirconia is the most durable material used in modern prosthodontics. It will also provide a remarkably natural-looking color and sparkle. Expert technicians at the Tischler Dental Laboratory will craft your restoration with 3-D computer technology to provide a precise fit and fully restored dental function.
Teeth Tomorrow has a proven success rate. In fact, one study found that this treatment was effective in 99.8 percent of all cases. With proper care, your stunning new smile could last the rest of your life.
Contact Us
If you suffer from a severely compromised smile, you could be a candidate for Teeth Tomorrow. For more information, contact our office online today. You can also reach us by calling (718) 705-4434.